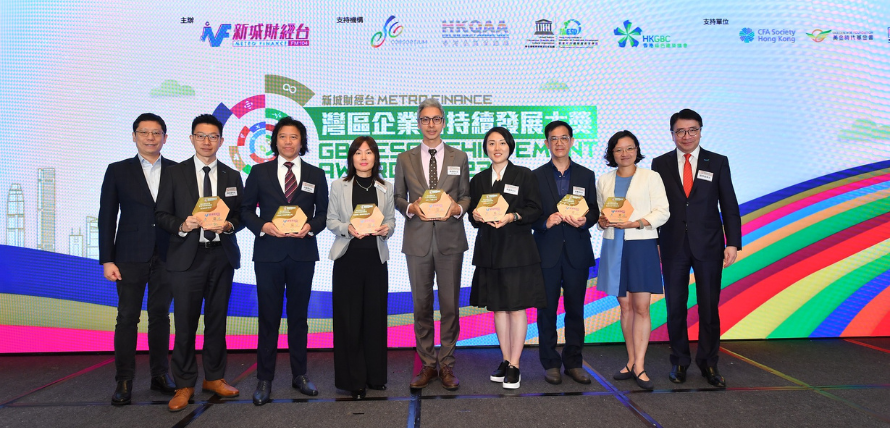 新城財經台主辦「灣區企業可持續發展大獎」已於今日(9月25日)順利舉行!
我們非常榮幸能獲得提名,經評審團甄選後與港鐵公司、渣打銀行(香港)有限公司、國泰航空有限公司等大型機構一同獲得【傑出灣區企業 – 社會可持續發展獎】。
同場舉辦的《灣區企業可持續發展論壇》,多位環保及科技界學者,分享ESG的價值及未來,分析ESG對本地企業是負擔還是機遇,令我們獲益良多。
我們亦與其他得獎企業代表一同交流,期望日後能為推進可持續及ESG發展而作出更多貢獻。
活動背景:
「灣區企業可持續發展大獎2023」由新城財經台舉辦,為推進灣區可持續發展,同時履行國家的「雙碳」(碳達峰、碳中和)目標。
邀請專業人士、學者及行業翹楚甄選出具公信力的企業ESG大獎得主,表揚在社會可持續發展、綠色可持續發展及企業管治三大範疇均有傑出表現的灣區企業,冀推動灣區ESG邁步前進。
查看其他得獎結果 >> https://bit.ly/3PS6tNR
The "GBA ESG Achievement Awards 2023," organized by Metro Broadcast, was successfully held today (September 25th) !
We are honored to have been nominated and selected by the judging panel to receive the "Outstanding Social Sustainable Awards" along with major institutions such as MTR Corporation, Standard Chartered Bank (Hong Kong) Limited, Cathay Pacific Airways Limited, and others.
During the concurrent "Bay Area Business Sustainability Forum," several scholars from the environmental and technology sectors shared insights on the value and future of Environmental, Social, and Governance (ESG) practices. They analyzed whether ESG represents a burden or an opportunity for local businesses, providing us with valuable knowledge. We also had the opportunity to exchange ideas with representatives from other award-winning companies, with the hope of making further contributions to promoting sustainability and ESG development in the future.
Event Background:
The "GBA ESG Achievement Awards 2023" was organized by Metro Broadcast to promote sustainable development in the Bay Area and contribute to the national goals of "Dual Carbon" (peak carbon emissions and carbon neutrality). Professionals, scholars, and industry leaders were invited to select credible winners of the ESG awards, recognizing outstanding performances in social sustainable development, green sustainable development, and corporate governance by Bay Area enterprises. The aim is to advance ESG practices in the Bay Area.
To view other award results, please visit >> https://bit.ly/3PS6tNR